Chimerica's Cherry Jones: 'Everything progressive in America has been trampled on'
The American, high-culture audience will know Cherry Jones as an icon of Broadway, high priestess of off-Broadway, giving definitive performances since the 1980s: famously, Sister Aloysius in Doubt and Amanda Wingfield in The Glass Menagerie, a Tennessee Williams play she describes with such persuasive, feeling admiration that I bought it on the way home (it is really good, by the way).
Dedicated consumers of schlock will be catapulted back to Jones's President Allison Taylor, from series seven of 24. While the box-set connoisseur will know Jones from Transparent, in which she played Leslie Mackinaw, closely modelled on creator Jill Soloway's partner, the poet Eileen Myles. Jones says with ridiculous modesty that she usually gets parts at the last minute, when someone else pulls out. "I always like to find out who, so I can send flowers." But not this part, which was as good as written for her. "No," she concedes, "Jill wanted a true-blue lesbian. The real McCoy."
Jones is in London the weekend of the big anti-Brexit march ("I hope to join it later," she tells me) mainly to support her wife, the film-maker Sophie Huber, who is touring Europe with her documentary, Blue Note Records: Beyond the Notes. "Basically, everyone in it is a black man, so it's been impossible to get it released in America," Jones says unflinchingly. With the least confrontational manner, she gets stuck in to politics at every turn, so that you're constantly spinning between despair at the world, delight that there are souls like hers in it, and blank confusion that the president of the United States just opened the door to you, in a flat next to a bakery in north London.
We're here to discuss Chimerica, Channel 4's version of the acclaimed stage play by Lucy Kirkwood, who also wrote this script. It's pretty traditional four-part drama, about a photographer who scorches his own reputation by doctoring a shot, and tries to redeem himself by tracking down the subject of a photograph he took during the Tiananmen Square protests in 1989.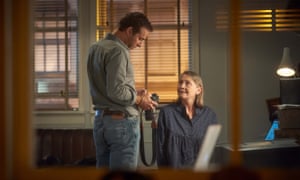 Alessandro Nivola and Cherry Jones in Chimerica. Photograph: Playground
Jones plays his journalist colleague, classic old-school hack, all fast-talking ribaldry and fierce loyalty. Jones is interested in everything – the future of journalism, the possibility of redemption, what social media has done to our moral compass, the endless accusations that basically sound people level against one another, which "enables the bad guys to succeed because they don't care about redemption and they don't get pinned".
She doesn't, I have to say, seem terrifically interested in her own performance, apparently missing that gene that brings the conversation back to yourself. "I got cast very late," she says, "and said yes after 25 pages, because I found it so gripping," and that's as far as she'll go. A trace of stage-snobbery about TV remains, even while the quality and sophistication of shows like Transparent collapse the old distinctions a bit. "I only took 24 because my parents were ill and I needed to get home to Tennessee. And it worked. I was home two weeks of every month for the last three years of their lives."
Her reservations were about more than whether or not 24 was a bit trashy, though. She talks ruefully of the show's famous violence: "I guess I mean its violent ethics." It was so torture-heavy that some seasons – sheesh, season five – seemed to have that as the only question, should this bad guy be mutilated? "Kiefer Sutherland," Jones remembers mournfully, "had to do a public service announcement for servicemen saying, 'This was a television show, these are not the ethics of the US government or military.' Of course, unfortunately, those were the ethics of the US. The fact that [Sutherland] was asked, or volunteered, to make that statement, was deeply troubling to me. But in this case, with ill parents, I fudged. You do. I had to come off my high horse."
---